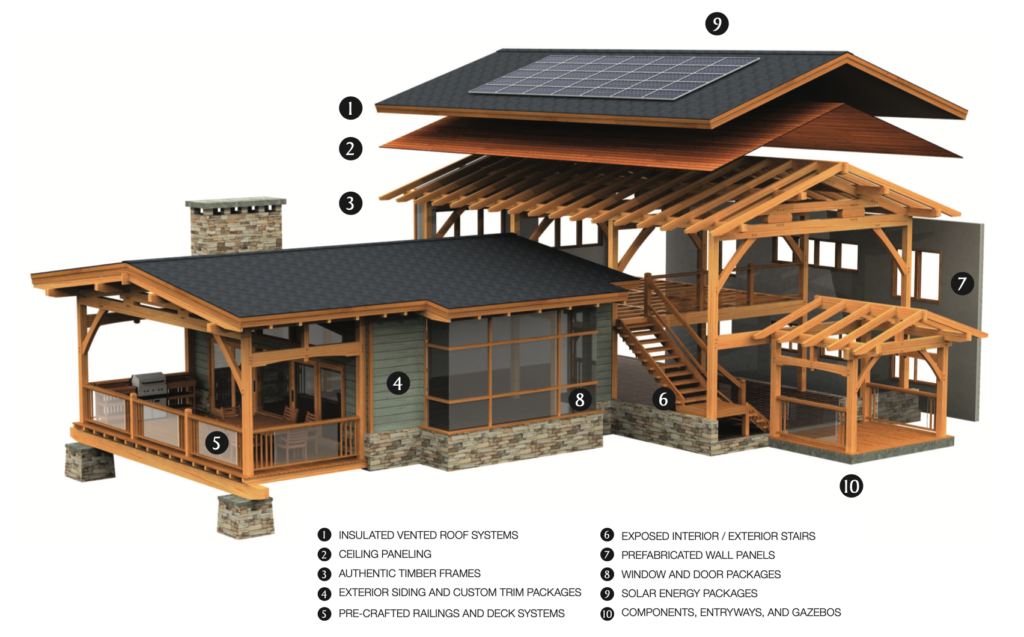 NEW HOME PRICING
Extremely durable home packages featuring natural material and state of the art energy efficient envelopes.
PACKAGE SUMMARY
BASE PACKAGE STARTING AT $120 SQ FT
Flexible options to choose from.
BASE PACKAGE:
DESIGN & PERMIT
TIMBER FRAME
WALL & FLOOR PANELS
ROOF SYSTEMS
INSTALLATION
COMMON ADDITIONAL OPTIONS:
CEILING BOARDS
WINDOWS AND DOORS
EXTERIOR SIDING
STAIR PACKAGES
DECKS AND RAILINGS
DOES NOT INCLUDE:
FOUNDATION
PLUMBING
ELECTRICAL & HEATING
FLOORING
DRYWALL
KITCHENS
BATHROOMS
FIXTURES & APPLIANCES
PACKAGE DETAILS
DESIGN, ENGINEERING, & PERMIT PLANNING
Completely engineered for building permit with your personal customizations for floor plan, size, and site specifics.
EXPOSED TIMBER FRAME & METAL COMPONENTS
Exposed timber frame and metal components featuring the beautiful aesthetics of natural material and true craftsmanship. Showing the structure where desired, we call this "honest architecture".
WALL & FLOOR SYSTEM
Prefabricated wood stud with plywood exterior sheathing. Structurally complete with all window and door openings.
ROOF SYSTEM
Insulated and non insulated roof systems. Structurally complete with top layer plywood sheathing. Finished fascia and exterior soffit detailing.
FINISHED CEILINGS
Pre-oiled tongue and groove wood plank ceiling board. Stained to any colour including white. Drywall over exposed timber also available.
WINDOWS AND DOORS
View our Windows & Doors page. Wood, wood interior / metal clad exterior, fibreglass, thermally broken aluminum and vinyl options. Glass curtain walls, large sliding walls, doors, and corner windows. All custom designed to perfectly match your house plan.
EXTERIOR SIDING
Western red cedar siding, factory stained to the highest standard, available in all profiles and patterns including cedar wall shakes.
Cedar window and door trim with all required metal flashings.
Metal siding available in all profiles, patterns and colours including patina and weathered Corten steel.
Fibrous cement boards available in all profiles and patterns.
Stone masonry materials available.
STAIRS AND RAILINGS
Solid, authentic heavy timber frame stair packages.
Wood, metal and glass combinations.
Curved, straight or "floating" custom designs.
Anything is possible!
DECKS AND RAILINGS
The finest western red cedar decking in the world.
Oil staining 3-coat factory process.
All other decking options available subject to design.
"Topless"/"frameless" glass railing systems for maximum view.
Metal and taught cable railings.
Heavy timber frame railings
Any custom railing design is possible be it wood, metal, glass or composite.
INSTALLATION
Complete installation on your site including the engineer's final site inspection and stamp of structural completion.We can send our full Purcell crew to take care of the entire installation, or we can send 1 lead tech to assist carpenters of your choice.